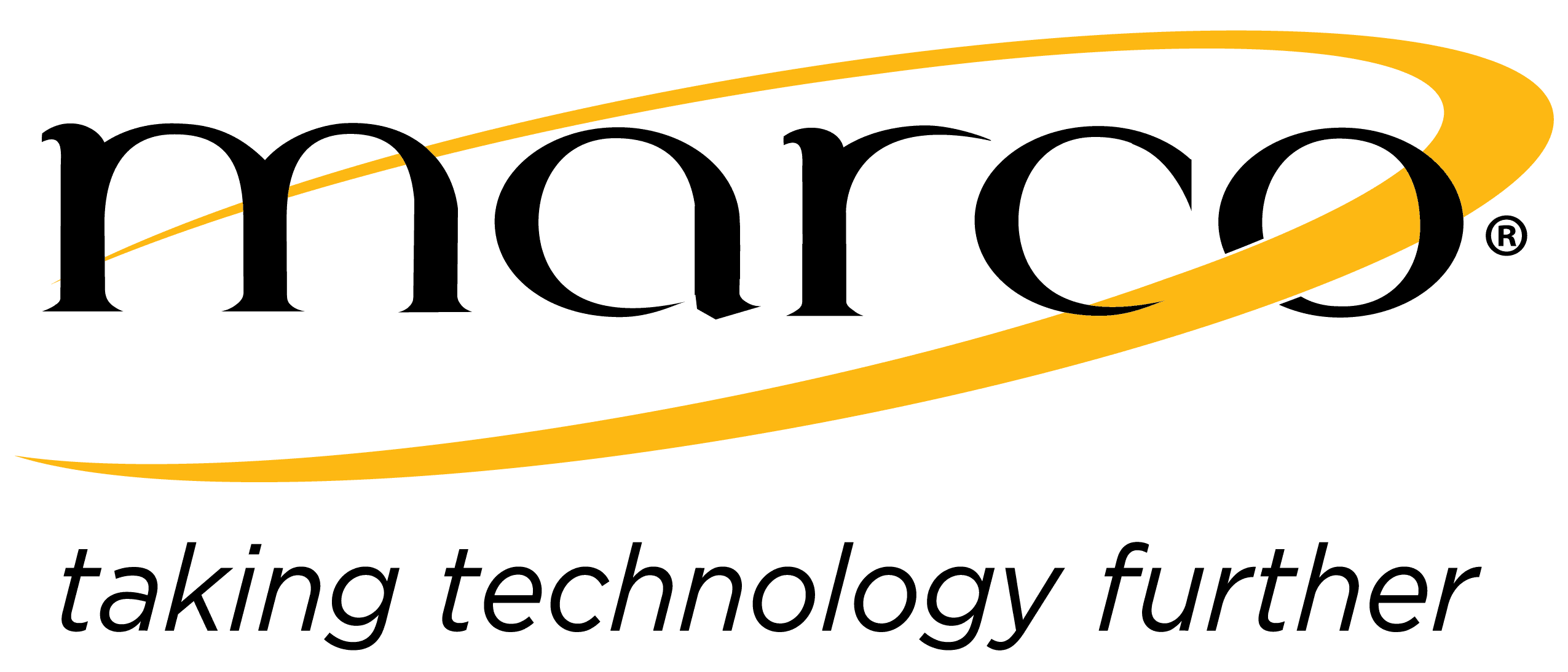 Marco Technologies LLC
AV Technician II
Minnetonka, MN•MinnetonkaMinnesotaUnited StatesNorth America•June 10, 2023
Marco is a one-stop shop for all things business tech. Our employees are "movers and shakers" and our company is always striving to do what's right. Does this sound like a culture you want to be a part of? We're hiring a new team member to help take Marco's technology further – working full-time, Monday - Friday, 8am-5pm. More about us. We do it all – from copy and print solutions to IT and managed services. We are an organization led by salespeople with 650+ engineers ready to fix any and all issues. We have offices in 12 states and service nationally. Join our growing team. You won't regret it.
POSITION SUMMARY/OBJECTIVE:
The AV Technician II is responsible for providing quality services and solutions to our clients while maintaining a high level of client satisfaction. You will routinely perform project based installations and service based repair calls at client locations. You are responsible for design, management, administration and integration of products, services, applications and operating level systems code.
ESSENTIAL FUNCTIONS:
1.      Run new low voltage cable in new or existing client buildings.2.      Terminate, test and troubleshoot low voltage cabling.3.      Install and assemble racking equipment.4.      Install and maintain new and/or existing AV or Video Surveillance equipment while working under the guidance of higher level Pro AV service personnel.5.      Troubleshoot basic AV or Video Surveillance systems and applications to identify and correct malfunctions and other operational problems.  Escalate issues beyond established skill set.6.      Maintain current technical knowledge and continuously work to expand knowledge of new technology and equipment.7.      Ability to perform job duties independently.8.      Represent Marco in a professional manner at all times.9.      Perform all work in a safe manner including but not limited to loading/unloading vehicles, lifting equipment, climbing, etc. to protect yourself and your coworkers. Use good judgment and give constant attention to the work being
done.
10
.   Maintain parts
inventory.
11
.   Accurately maintain documentation and comply with service administrative procedures in a timely basis to include pick tickets, collecting client signatures and time
entry.
12
.   Attend required company and departmental
meetings.
13
.   Lead a crew of up to 2 people as needed to complete assigned
projects.
QUALIFICATIONS:
EDUCATION AND EXPERIENCE
Associate's degree and two years of relevant experience; or equivalent combination of education and experience.
LICENSES AND CERTIFICATIONS
Current CTS certificate or working towards obtaining within 6 months from hire or transfer.
Power Limited Technician (PLT) License (if state required).
Valid Driver's License, proof of personal insurance and an acceptable driving record.
REQUIRED SKILLS:
Proficiency with business collaboration tools such as MS Office applications and Visio.
Communication – Must possess strong communication skills in working with technical and non-technical people and the ability to develop and maintain collaborative relations among all levels of an organization.
Commitment – See that a project or task is completed from start to finish. Demonstrate thoroughness and commitment.
Initiative – Must possess the ability to be a self-starter and take initiative.  Work to identify and resolve problems in a timely manner however if you can't resolve it yourself, use resources to find someone who can.
Flexibility – Adapt to changes in the work environment.  Change approach or method to best fit the situation.
Team Work – Contribute to a positive team spirit by working with others on a combined task.  Make contributions to the task and share the responsibility of the outcome.  Exhibit objectivity and openness to others' views and welcome feedback.
Time Management – Must possess the ability to prioritize several tasks and keep them running simultaneously (multitasking).  Be able to recognize and respond to changing priorities in order to meet deadlines.
Completion of online courses including Crestron 101, Toolbox and Digital Media preferred.
Benefits:
 We're not just competitive when it comes to business tech – we're also pretty proud of what we offer our employees. Our benefits include medical, dental, and vision insurance. We also have paid holidays and vacation, 401k with generous company match, flexible spending accounts, employee purchase program, employer-paid life insurance, voluntary-term life insurance, short and long-term disability, critical illness and accident benefits, and pet insurance. Yes, we care about your furry family too.*all benefits are dependent on employment status    Equal Opportunity Employer /AA Employer/Minorities/Women/Protected Veterans/Individuals with Disabilities 
Applicant Labor Law Posters
Cyber Security Jobs by Category
Cyber Security Jobs by Location
Cyber Security Salaries